We Understand The Importance Of Being Environmentally Friendly.
In Fact, If It Weren't For All Of Mother Nature's Precious Resources, We Wouldn't Be Able To Provide You With Our Incredible Log Cabin Kits.
With log cabin sustainability in mind, our process not only implements state-of-the-art manufacturing automation that virtually eliminates waste, but we are also highly invested in sustainable forestry techniques. Conestoga Log Cabins & Homes understands precisely how to limit soil erosion and compaction when harvesting our lumber. This eco-friendly approach ensures we are doing our part to sustain and nurture the trees that provide our materials.
At Conestoga, log cabin sustainability is very important to us. Because of that, we make sure that all of our logs come from Forest Stewardship Council (FSC) certified vendors. The engineered logs that we use originate from trees from planted forests. In turn, this decreases deforestation by preserving our natural forests. So, our logs have a much smaller carbon footprint than other log systems.
Additionally, our manufacturing facility is another example of our commitment to the environment. Instead of building a facility from scratch, Conestoga chose to reduce waste by restoring and re-purposing buildings that were already in existence back in 1985. Today, our plant and offices are still in this location in Lebanon, Pennsylvania!
So, if you're looking for log cabin sustainability, Conestoga Log Cabins & Homes is right up your alley.
More on Cabin Sustainability
Conestoga Cabins are Sustainable
The best part about Conestoga cabins is that they are sustainable and environmentally friendly because they are primarily made from a renewable resource…trees.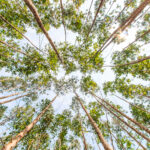 Conestoga is committed to environmental wellness and we demonstrate this commitment in our manufacturing methods.
It begins with Conestoga Everlast™ Log which is produced in accordance with ISO-14001 Environmental Management System standards.  This assures minimal environmental impact in timber harvesting.  Our milling operations utilize cutting-edge fiber optimization software which nearly eliminates any material waste.
Because We Care
As a conscientious manufacturer who cares about the planet and its precious resources, Conestoga is continually reviewing its manufacturing to ensure the lowest carbon footprint in the log home industry.
Technology improves efficiency…
Our machines are an in-line station-to-station that intelligently maximizes the material usage of each Conestoga Everlast™ Log.
When a cabin gets added to the production schedule, the log specifications are programmed by the engineering department and the machines are automatically optimized for less than 1% waste.
The notcher is one of many technologies used by Conestoga to minimize waste and improve energy efficiency.  What would require multiple pieces of equipment, Conestoga is accomplishing with one streamlined system.
Business investments like these contribute to our "GREEN" efforts and we are able to pass the savings along to our customers, like you!
How We Sustain Our Environment
All of the wood utilized to produce a Conestoga Log Cabin kit is attained using Sustainable Forestry Techniques.  We only use timber from certified renewable forests, which means the trees were planted for timber purposes.  We never use timber from natural resources.
What is Sustainable Forestry
Sustainable forest management has to keep the balance between three main pillars: ecological, economic and socio-cultural.  Successfully achieving sustainable forest management will provide integrated benefits to all, ranging from safeguarding local livelihoods to protecting the biodiversity and ecosystems provided by forests, reducing rural poverty and mitigating some of the effects of climate change.