ATVs at the cabin are a must-have!
Since most log cabins aren't located in major metropolitan areas, chances are if you own a log cabin, you live in close proximity to nature.  If that's the case, you're in the perfect spot for four wheeling.  Four wheelers are ideal for the log cabin owners who want to work hard and play hard.
Whether you prefer ATVs (straddle seating position) or UTVs (automotive style seats), there's no better way to explore your surroundings.  Four wheelers are designed to navigate a wide variety of terrains and can be a source of year-round entertainment at your log cabin.  Hit the trails and check out the nearby forests, boulders, mountains or sand dunes.  If you're experienced enough, get extreme and try rock crawling.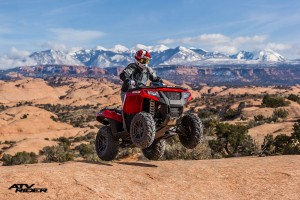 ATVs at the cabin aren't just for fun.  Put them to work around your log cabin.  They can carry loads either by holding or towing.  ATVs can tow upwards of 800 pounds or hold more than 100 pounds on the racks.  UTVs offer even more utility, and can take anywhere from 300-1000 pounds in the bed and tow even more.  Think of everything you could do like haul firewood, move rocks, transport supplies and pack out your kill after hunting. With attachments you can plow snow, mow grass, and excavate.
The average cost of a new ATV is $4,000 to $14,000.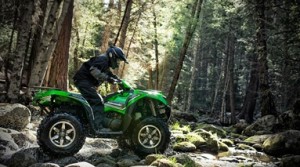 UTVs run about $8,000 to $16,000.  To spend less, consider used vehicles available from dealers, private sellers or online.
If you don't own a log cabin yet, there are many campgrounds and ATV resorts located near trails.  Rent a cabin and create an off road adventure with your family.  What family of outdoor enthusiasts wouldn't love a riding vacation?
So put on your safety gear and go for a ride and make some great memories with ATVs at the cabin!
If you don't have your own cabin but love ATVing, check out the top cabin vacation spots!