What's scarier than a haunted house? Of course it's a haunted log cabin in the woods!  If you're into ghosts, apparitions and the paranormal, you'll want to check out these Haunted cabins.
Haunted Cabins and Ghost Stories
White Otter Castle
T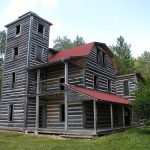 he three story log cabin was single-handedly built over many years by eccentric Jimmy McOuat.  It is located on the shores of White Otter Lake in Ontario and can only be accessed by snow mobile, plane or boat.  He intended the home to be a dowry for his future bride that he was yet to meet in person.  McOuat tragically died in the fall of 1918 while fishing.  His body, tangled in fishing nets, was not discovered until the following spring.  His grave is next to the log castle, and rumors say that his ghost still wanders the property.
Shamrock House
Part of a three cabin compound, Shamrock House was built around 1925.  Legend tells that a pretty young woman named Nancy and two friends were hired to provide "upstairs entertainment."  However, Nancy changed her mind and locked herself in an upstairs bedroom.  Nancy's father, a fire and brimstone preacher, heard of the situation and set out for Shamrock House.  Then, when Nancy heard of her father's pending approach, she overdosed on opium.  The stories say that her ghost cries softy during the night.
Snelson-Brinker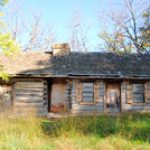 Built in 1834 by Judge Levi Snelson, the Snelson-Brinker Cabin was Crawford County, Missouri's first courthouse.  The cabin was later sold to John Brinker, father of two daughters.  Brinker had a teenage slave girl named Mary, who looked after the girls.  Mary was accused of drowning two year old Vienna Brinker.  Then, after a brief trial, Mary was convicted and hung.  Her unmarked grave is not far from the cabin.  Supposedly Mary's spirit is still in the cabin.
Austin Log House
One of the most haunted cabins in Ohio might be the Austin Log House.  Built by the town's founder John Austin sometime in the 1700's, the cabin is reportedly haunted by a headless soldier.  Even today, Austintown residents have spotted him in the upstairs windows as they walk by.
Laura's Cottage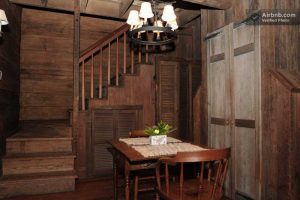 Located in Savannah, Georgia, Laura's Cottage is a historic 1799 guest house with original pine floors, walls, and ceilings.  Laura lived in the cottage for 50 years and is said to occasionally come out to open windows and flicker the lights.  If you're lucky she may sit with you and join you for dinner.  You can even see the cottage in Robert Redford's "The Conspirator." 
Fort Meigs Bunkhouse No. 3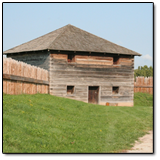 Part of Fort Meigs in Perrysburg, Ohio, Bunkhouse No. 3 was built on top of an ancient Indian burial ground.  The Bunkhouse housed American soldiers during the War of 1812.  During a failed surprise attack on the Native Americans, hundreds of American soldiers fell victim to an ambush.  There are reports of unexplained flashing lights and discharging muskets.  Is it the Native American ghosts whose burial site was desecrated or soldiers from the grave?
Corbin Cabin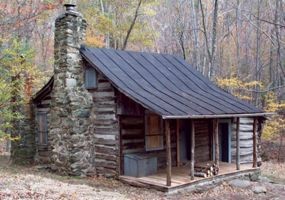 This cabin is tucked away in the woods of the Shenandoah National Park.  It is one of the last cabins standing since the creation of the National Park.  George Corbin built it in the early twentieth century.  Unfortunately, Corbin's wife Nee died during childbirth in 1924. Hikers who visit claim to see the ghost of Nee Corbin in the woods surrounding the cabin and even hear her footsteps across the cabin floorboards.
Cabin 28
Site of a gruesome 1981 quadruple homicide, Cabin 28 was located at the once popular Keddie Resort in northern California.  Visitors report doors opening and closing on their own, moans and light anomalies.  Unfortunately, you missed your chance to visit. Local workers tore the cabin down in 2004. However, the murders are still unsolved.
Mathias Cabin
This spooky log cabin is located in Clear Creek Metro Park in Ohio.  Passersby report mysterious voices, strange lights and faces peeking out of the windows.
Log Cabin Village – Foster Cabin
Lastly, Log Cabin Village in Forth Worth, Texas is a living history museum made up of six historic buildings including the Foster Cabin.  The cabin was home to Harry Foster and his family in the 1800's.  After the death of his wife, Foster married the nanny, Jane Holt.  Rumors say that Holt wore lilac perfume.  Visitors today claim to be able to smell lilacs on occasion, and reports of phantom footsteps continue.