Whether you are sharing Valentine's Day with your sweetheart, friends or family, every occasion is better with snacks!  We think you'll LOVE these Valentine's Day treats!
Valentine's Day Treats
Valentine's Day Popcorn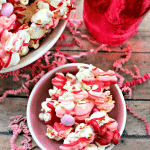 Ingredients
1/4 cup Pink Candy Melting Chips
5 cups popped Popcorn
1/4 cup Red Candy Melting Chips
1/4 cup Valentine M&Ms (or more if you like!)
Directions
1. Spread popped popcorn on baking sheet lined with wax paper.
2. Melt Pink Candy Chips for 30 seconds in microwave, stirring and repeating until melted. Allow to cool for 2-3 minutes and then drizzle over the popcorn.
3. Repeat step 2 with the Red Candy Chips.
4. Sprinkle M&Ms over mixture.
5. Allow 10 Minutes for candy to firm.
Valentine Bark
Total Time: 2 hours
Yield: 8-10 servings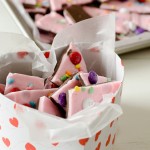 Serving Size: 2-3 pieces bark
1 package chocolate candy coating/melts
1 package white candy coating/melts
pink food coloring (that does not contain water)
1 package M&M's
Assorted heart sprinkles
Line a large baking sheet with parchment paper. Melt the chocolate candy melts in the microwave according to the package directions. Pour onto the lined baking sheet and evenly spread into a very thin layer with a spatula. Chill in the fridge until hardened.
Melt the white candy coating in the microwave according to the package directions, then use the pink food coloring to tint it the desired color. Evenly spread on top of the layer of chocolate and sprinkle the M&M's and heart sprinkles on top. Press lightly to adhere. Chill in the fridge until set, then remove from the parchment paper and break into pieces.
What are your favorite Valentine's Day treats?