A cozy log cabin usually means a small kitchen. That doesn't mean that function and design need to be sacrificed. Read these ten tips on making the most of a small log cabin kitchen.
1. Light it Up
Adding lights under cabinets will brighten up the space and make the kitchen more conducive to working. You don't even have to call an electrician to hard wire your new lights. Look for wireless LED lights that are battery operated or rechargeable with a USB port. They are an inexpensive quick fix!
2. Rethink the sink
Maybe a double sink is a must have. Maybe you'd rather have the extra counter space that a single sink would provide. Think about how you function in the kitchen and what serves your needs best.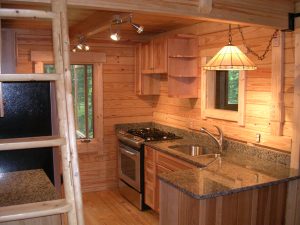 3. Open Shelves
Replace some upper wall cabinets with open shelves. You won't lose any storage space but the log cabin kitchen will appear larger and more open. This is a great place for items you want to show off, cookbooks and daily used items. As an added bonus, shelves cost far less than cabinets.
4. Consider shallow cabinets
By decreasing the depth of your base cabinets (standard is 24") you make more floor space available. Use traditional upper wall cabinets as base cabinets for an extra nine to twelve inches. In addition, it will be a lot easier to reach the items at the back of the cabinet!
5. Downsize Appliances
Smaller than standard appliances free up physical as well as visual space. A counter depth refrigerator still has plenty of room for food. A smaller apartment size dishwasher means there is space for a larger cabinet next to it. Plus you won't have to wait as long for it to fill up before you run it. Unless you regularly host Thanksgiving dinner for 20, do you really need a standard range. Get a smaller version and have family and friends bring a dish.
6. The Island Diet
A small log cabin kitchen doesn't mean that you have to forgo an island. Islands are great when multiple chefs are cooking and when entertaining. An island on wheels can be rolled away when not in use. Consider a skinny island to maintain the benefits without overwhelming the space.
7. Keep the Kitchen Alive
Is there a nook for a potted plant? Maybe you can put a mini herb garden in the window. Take a walk around the cabin and cut some flowers and bring them in to brighten up the kitchen.
8. Add Soft Touches
Put some of your personality into your small log cabin kitchen by selecting rugs and window treatments that reflect who you are.
9. Pegboards aren't just for garages
Bring the pegboard inside, paint it whatever color you want, buy hooks and create an easy storage space. Hang pots, utensils and whatever else you want to access easily.
10. Cathedral Ceilings
If you already live in a cabin with cathedral ceilings, you know how even small rooms feel incredibly open and spacious. Even the tiniest of log cabin kitchens will feel roomy if it isn't trapped under a flat ceiling.