A log cabin loft is great for extra sleeping quarters but they can be so much more!   These multipurpose spaces can be used for a myriad of things.   Here are some creative ways to make your log cabin loft work for you and your family.
Tips for a Great Cabin Loft
Playroom
Kids can feel like they have their own hideout but they are still within supervisory distance.  They can build forts, play games and work on arts and crafts.  When they're not playing, the loft can be a children's study area.  It's not as confined as bedroom but allows students to be part of the family without as many distractions.
Spa
Turn your log cabin loft into an owner's retreat.  Soak the day away in a jetted whirlpool tub.  Candles provide soft lighting. Complete the experience with fluffy towels, fragrant flowers and soothing music. Hang curtains for privacy if you don't have a door.
Exercise Room
Position your treadmill, bike, rower or stepper facing the window and enjoy the scenery while you burn calories.  Save space to roll out your yoga mat.  Don't forget kettle balls, free weights and a medicine ball.  Whether the log cabin is your home away from home or your regular residence, you have to maintain your muscles!
Game Room
Pool table are lots of fun if your loft is big enough.  Make sure players can shoot from all angles.  If you need to think on a smaller scale, try a poker table, air hockey or foosball.  Get the gaming system off the main television and put it upstairs.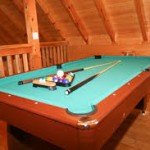 Library/Sitting Area
Hang a hammock and add comfy chairs. Transform your loft into a sitting area for reading, writing, painting, knitting or meditating.  Solve that crossword or Sudoku puzzle in peace and quiet.  Whether you relax with a glass of wine or a cup of tea, make it your haven.
Home Office
It doesn't require as much privacy as a bedroom but a loft office allows you to be set apart from the action below so you can concentrate on the job at hand.  Add a coffee pot and a small refrigerator to minimize trips downstairs.  More on creating an office.