Americans have a lot of stuff.
A billion dollar industry has been created so we have a place to keep our belongings.  Whether you live in a log cabin mansion or a tiny house constructed from a log cabin kit, you can have storage issues.  So, try some of the following suggestions on log cabin organization to get your stuff under control!
Log Cabin Organization…How Hard Can it Be?
Arts and Crafts Storage
You have to keep the kids busy on those rainy days at the log cabin.  Here are some ideas for storing the essentials:
Use a wine rack with plastic cups to store beads, chalk, paint supplies, clay, and anything else that needs to be handy and easy to see.
Paper towel holders were made for holding spools of ribbon
Crayons can easily be tucked away in travel soap dishes or empty baby wipe containers. This is a great way to take them on the road or to keep junior entertained while eating.
File away scrapbook paper in boxes. Sort by color and place in coordinating colored folders.  It's a pretty, yet practical solution.
Bathroom Storage
If the bathroom is for one or a bathhouse for twenty, keep it organized.
Tired of scrounging for bobby pins? Tape a magnetic strip to the inside of the medicine cabinet.  This also works for tweezers, nail clippers and other small metal objects.
Stop by an office supply store and pick up a metal file storage box. Attach it to the side of your vanity and it becomes a convenient place to store your hair dryer, flat iron and curling iron while they cool.
False front drawers in front of the sink take advantage of limited space. They are big enough for toothpaste, dental floss and deodorant.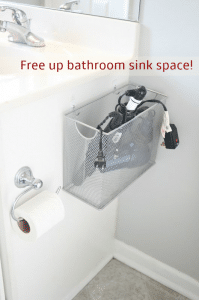 Wall in cabinets make use of forgotten space. Models are available for next to the toilet to hold plunger, brush and cleaner.  Wall niches hung between the studs are available for items you don't mind being on display.
If the toilet is in a nook, put shelves above it.
Shower caddies obviously help with storage in the tub but they can also help organize the space under the sink.
Medicine cabinets don't just have to have mirrors on the front. Put a second one in the bathroom with artwork or a favorite picture.
Bedroom Storage
It may seem as though there are not a lot of storage options in the bedroom, especially if your log cabin kit bedroom does not have a closet.  So, try a few of the ideas below:
Put more storage space under the bed. You can buy bed risers for under 10 dollars!  Containers with shoes, blankets, out of season clothing are conveniently hidden away.  Save money and don't buy containers but use suitcases, backpacks or whatever else is not in use.
A dresser provides more storage space between twin beds than a nightstand.
Murphy beds allow for space during the day and a place to sleep at night.
Consider headboards with cubbies or shelves and eliminate the need for a bedside table.
Closets with EXTRA Storage
Regardless of the size, closets function best when organized.
Hats, scarves and belts can be easily lost in the closet. Solve the problem by attaching shower curtain rings to a sturdy hanger and hanging belongings.
Use another hanger for necklaces. Avoid the tangled mess of the jewelry box.
Keep sheet sets together by folding and placing inside one of the pillow cases. Stack neatly on shelves.
Shoe organizers are the right dimensions to hold cleaning supplies. Also, make sure it's see-through for easy product identification.
Use the pull tab from a soda can (or beer if you're old enough) to create a double hanger. This little trick increases usable closet space.
Organize the Garage
Trade chaos for order.
Free up floor space and hang bikes on hooks. Pulley systems are available to store them horizontally on the ceiling.
With the most basic of woodworking skills, a  jumbo tape dispenser can be made. Never search for the end of the tape again.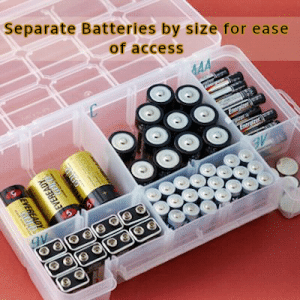 Before you put those glass jars in the recycling bin, consider turning them into storage containers. Glue or nail the lids to the underside of a shelf and create a place to keep nails, screws, nuts and bolts.  They will be sorted and easy to see.  Baby food jars are well suited for small things and pasta sauce jars can hold items that are more plentiful.
Tackle boxes are for more than fishing lures. The compartments are great for separating batteries by size.  You'll want to know exactly where to find fresh batteries when the kids want to run around the log cabin playing flashlight tag.
Create inexpensive suspended shelving with plywood and lumber.
Stackable recycling bins allow for sorting of glass, plastic, paper, etc. They save space and time which will be appreciated by the person responsible for taking items to the recycling facility.
Staying Organized throughout
These tips work throughout the log cabin.
Assign a bin or basket to each family member to keep stuff off the floor and somewhat organized. Have one for the family pet too.  Dogs can be trained to put their items in a basket.  Good luck teaching your cat to do the same.
Do you need to iron while you're vacationing at the log cabin? Hopefully not but if you do, nail two robe hooks to a wall or the back of a door and you have a spot for the ironing board.
Don't overlook space behind doors. Shallow shelves will fit there to easily store children's books even in the smallest of rooms.
Tired of plastic shopping bags taking over your cabinets? Fit dozens inside empty tissue boxes or disinfectant wipe containers.  The bags will be ready for easy dispensing to serve as trash can liners or doggy poop bags.
Not just for criminals, consider making a storage space under the floorboards. Power tools are necessary to craft this secret hiding place.
You can store countless items under the stairs! Turn it into a space for less often used items like luggage or keep a beverage cart there and roll it out when friends arrive.
Put your furniture to work. Ottomans and benches are tried and true storage spaces.  Bunk beds and log cabins go hand and hand.
Stacked crates and wooden boxes hold books, blankets, and pillows. Rearrange, add or subtract as needed for a flexible storage solution.
If the family enjoys relaxing around the fireplace on a cold evening, try storing firewood in a copper plated tub, wooden crates, an old trunk or whatever fits the aesthetic of your log cabin.
Shoe boxes are ideal for storage of photographs, love letters and trinkets. Add labels for easy identification.
Are the kids' toys taking over? Give them bins to organize and store.  Take pictures of the toys and tape to the bins so the kids know what goes where.
Holiday Storage
Don't let disorganization add stress to the holidays while you should be enjoying family and friends.
Unless you're a vegetarian you probably have egg cartons just waiting to be recycled. Made for holding delicate items, they come in handy for storing fragile Christmas ornaments.
Ceiling Storage – attach string to opposite ends of closet wall near ceiling. Tuck away wrapping paper to keep it handy but out of the way and unwrinkled.
No more tangled Christmas lights – save a nice-sized firm gift box and wrap lights around it. You'll be grateful the following year when you don't have to waste time unraveling.
Donate items you no longer need or use and free up space for potential new items. Don't skip this step if your kids already have way too many toys.
Junk Drawer No More
Most people have junk drawers, while some people have several.  Follow a few simple steps and turn junk drawers into organized space.
Put no slip liners in utensil drawers. Spatulas, whisks and measuring spoons stay in place instead of becoming a jumbled mess.
Save jewelry boxes. Made of sturdy cardboard, they are perfect for sorting items and creating divided storage space.  Just clip them together to hold them in place.  Necklace boxes are the right dimensions for pens and pencils and that pair of readers that are always lost.  Square boxes can hold paper clips, lip balm, mints or whatever.
Ice cube trays and muffin tins work well in drawers. 
Gadgets in the Kitchen
The kitchen is the heart of every log cabin home.  Find your stuff when you need it by:
Use a small tension rod to separate pots and lids. You can stack pots and pans together in the larger section toward the back and keep the tops in the smaller section in the front.  This also works well for all those Tupperware/Rubbermaid containers that always have missing tops.
Dinner plate cradles store plates on their sides instead of stacking them upright which frees up space.
Pantry doors are the perfect place for plastic wrap, foil and wax paper. A magazine rack is the right dimensions for such a task.  Hold light items, like sandwich bags, together with push pins.  The items will be easy to find but out of the way.
Don't forget about the sides of kitchen cabinets above the sink. These are convenient places to hang small baskets and hooks to store towels, sponges and dish soap.
Are you constantly digging around the cabinet looking for oregano for sauce or cinnamon for baking? Even with a turntable, center items are still hidden.  Try spice rack organizers that attach to the inside of cabinet doors.  Your spices will be more accessible.
Place hooks under cabinets for hanging coffee mugs
Find a rustic door handle that complements your log cabin kit and nail it to a wall. You just created a kitchen towel holder that keeps your towel from falling on the floor like with a hook.
Heavy duty appliance shelves lift right out of the cabinet and rise to counter height. They are perfect for mixers.  If you assembled your own log cabin kit, this will be a piece of cake to install.
Drawers can be customized to hold utensils upright. There are also drawers with baskets for root vegetables and inserts for bread bins.
Install a tension rod under the sink and hook on cleaning supplies by the nozzle.
Lazy Susan's were invented for utilizing corner space. Unfortunately small items can be hard to find.  Turn your Lazy Susan into a recycling center and attach bins to it for trash, paper and plastic.
Slide out butcher blocks are convenient. It keeps the cutting board at your fingertips when needed and easily stowed when unused.
Get more space in the kitchen by installing toe kick drawers.
Slide in a slender homemade cabinet in the gap between the refrigerator and the wall. With as little as four inches, storage is created for spices, canned goods, cereal and condiments.
Banquette seating is popular for log cabin living. Increase the banquettes functionality by adding pull out draws or making them pull up benches.
Odor and Order in the Laundry Room
Hang a pegboard on the inside of the closet door. Inexpensive hardboard and hooks can be purchased at hardware stores or big box stores.  Pegboard is easily cut to fit your specifications.  Keep your broom, Swiffer, and feather duster close at hand but out of sight.  Keep it fun and spray paint the pegboard before you hang it for a splash or color every time you open the door.
Repurpose that old wooden ladder. Paint it and suspend it from the laundry room ceiling.  It's an instant drying rack.
Is a trash can really needed in the laundry room? The only thing that goes into it is lint.  Mount a decoratively painted lint bin on the wall.  Campers often save lint and use as a fire starter because it is highly flammable.  Think dryer fires!
Do pairs of socks go into the wash and only singles come out? Mount a missing sock basket by the dryer.  Eventually the mate will show up.
Or get rid of lost socks forever. Wash socks in a closeable laundry safe mesh bag.  If they disappear now, the dryer is probably possessed.
Clutter doesn't have to win.  Be proactive and keep the cabin as the relaxation spot it should be with these log cabin organization tips!