So you want to build a log cabin… Do you go straight to the manufacturer or go through a log cabin dealer?  Are dealers beneficial to the consumer?  Should the consumer take the brand into consideration when purchasing a new log cabin? Find out below!
Cabin Dealer vs. Non-Dealer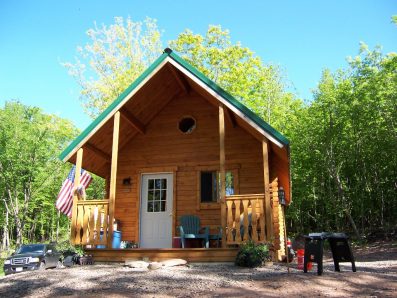 There is a lot to consider when purchasing a cabin such as features, durability, and price.  The decision making becomes more difficult when trying to compare different offerings from different companies.
Many log cabin companies operate on a dealership model because it is cheaper for them to procure mass produced cabin kits and resell them to a consumer.  It's an industry standard  similar to the automobile business.  Everyone knows the brand  and what it stands for.
The biggest advantage that dealers have is a large selection of floor plans that a large
manufacturer can provide.  Dealers usually have showrooms and access to multiple models that prospects can walk through.  This can be an advantage, but often the dealer lacks the flexibility in design, working to meet specific needs of the customer.  Dealers often don't have the same level of experience that a complete in-house company can provide.  The cabin dealer is often inexperienced in complete project management and ensuring the whole process is managed to the customers' expectations.  This means the customer is often left with a less than ideal solution.
Working directly with the manufacturer allows the customer to interact from day one with the people designing and fulfilling the order.  The manufacturer has the flexibility to meet the needs of the customer to satisfy to the fullest extent possible.  The customer can get direct answers to their questions and cut out the middle man.  Manufacturers who have their own sales and service personnel have a huge advantage.  These employees are onsite every day and are very aware of processes and methods, which means they have the knowledge to educate the customer.  Most dealers have never been to the manufacturing location, and have limited time in the log home industry.
There are benefits to working directly with the manufacturer as well as dealer representatives.  Cabin dealer reps can offer quick turnaround on standard products.  Manufacturers can offer quick turnaround as well as customization and more knowledge about their log cabin products.