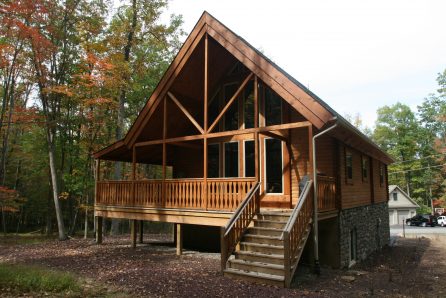 When Bill and his family wanted to look into the possibility of buying a second home, the first direction they went was to the mountains. It all started during a ski trip to Eagle Rock Resort in Hazelton, Pennsylvania when the family came across a Conestoga Aspen Chalet cabin in the early stages of being built. The family loved the cabin right away and put their deposit down just four days after visiting. "We started the buying process on December 7th and moved in January 27th. Everything that Conestoga promised would be completed was finished in a timely fashion. In addition, the model came equipped with more than we could imagine," Bill says.
One of the family's favorite features of the cabin is its wraparound porch. "We sit [on the porch] in our Adirondack chairs with family and friends," Bill notes. He adds that "the back window [of the cabin] faces the ski slope and is ultimately one of the best views when the mountain is lit up at night. It is truly mesmerizing. It is evident that the craftsmanship that was put into this house is outstanding."
Over all, Bill and his family are very pleased with how the entire cabin-buying process went. "I believe I will look back on this adventure in ten years and know that it was one of the best things I have done for my family and myself," Bill says. He and his family have taken four times more vacations than they did before buying the cabin.
"Without hesitation, I would recommend Conestoga to anyone who would like to build a log cabin. You cannot imagine how we feel every time we come around the corner and we see our cabin from a distance. When we walk in and smell the aroma of the wood there is comfort in knowing we are home."

— Bill Cooper
Check out some more photos of this family's cabin below!