Hunting cabin plans are very popular among our customers. One of the first things we ask our clients is how do you envision your hunting cabin? What amenities do you want? Do you see a modest cabin with just a stove and outhouse? Or maybe you're imagining something a little more modern with running water and a furnace? Do you want indoor plumbing or would you rather dig a latrine? Would a nice warm shower feel good after a day in the woods? Or are you ok waiting until you return home? Do you just need a bare bones simple place to unwind or a more sophisticated retreat with overstuffed dark leather sofas to lounge on, a bearskin rug under your feet and trophies on the walls? Is the hunting cabin a plan for recreational purposes or will it be your permanent home one day? Do you want open concept or private bedrooms? As you can see there is a lot to consider and this is just the beginning.
Conestoga Log Cabins & Homes offers a full line of standard hunting cabin plans that can accommodate the wish list of almost any outdoor enthusiast. The models Pioneer cabin at 13 x 13 is slightly larger than the Conestoga at 13 x 11. Both offer one room with space to sleep four. We have several plans that include bathrooms all the way up to 2500 square foot log homes. And of course, we can craft a custom plan that suits your needs regardless of size.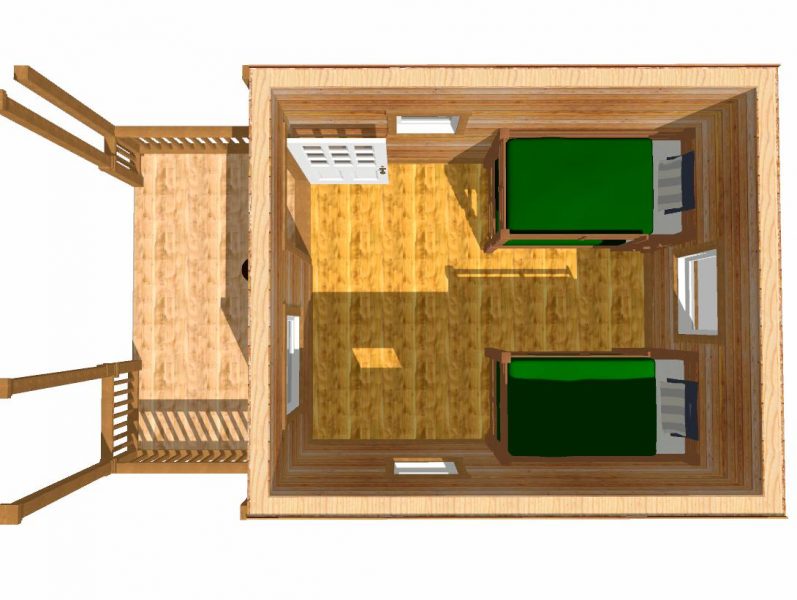 So if you're tired of the rainwater leaking through your tent and pesky mosquitoes sneaking in, maybe it's time to look at some of Conestoga's hunting cabin plans. If you hunt deer, birds or squirrels the cabin will be a place that you will return to and enjoy year after year and then pass on to your heirs. Assembling the hunting cabin can be a fun, bonding experience for family and friends. Think of the memories you will make. Whether it's the first hunt with grandpa, your daughter's first duck, your son's first deer or just sitting around a table and playing cards, it will be a place where you build memories that last a lifetime.