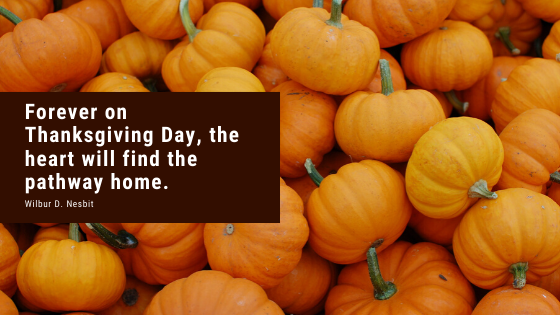 The Feast
There are so many delectable treats that we expect as part of our Thanksgiving traditions. The turkey is usually the star player surrounded by a supporting cast of rock start side dishes. Many people enjoy stuffing/dressing, gravy, sweet potatoes and cranberry sauce. Depending on what part of America you're from, your vegetable could be corn, green beans, Brussel sprouts or collard greens. And we certainly can't forget desserts – pumpkin, pecan or apple?
Create a Center Piece
Without spending a dime, you can craft a centerpiece our of beautifully colored fallen leaves, gourds and autumn flowers such as mums. This is a great activity for the kids and/or those with a creative flair.
Take Time for Yourself
If most of the planning falls on your shoulders, take time for yourself. Before diving into the hectic day, mentally prepare yourself. Meditate, pray, walk the dog or practice a few yoga poses. Do whatever you want that helps you relax.
TV Watching
You can start Wednesday night with A charlie Brown Thanksgiving. This classic premiered in 1973 and is still fun for all ages. The Annual Macy's Thanksgiving Day Parade kicks off at 9:00 am and features giant balloons, decked out floats, marching bands and performers. It will be a joy to watch even if you just tune in for a bit instead of the entire three hours. As the parade ends, The National Dog Show broadcast starts at noon. If you're looking for drama, tune into the The Godfather marathon. NFL fans can start with the bears at the Lions followed by the Bills at the Cowboys and finish up your day with the Saints at the Falcons.
Time with Family and Friends
Spending quality time with family and friends is one of the most important Thanksgiving traditions. Sharing stories, laughing and spreading good cheer with our loved ones while forming memories are treasures in life.
Table Setting
Have the kids set the table whether you break out the fine china and sterling or use paper plates. They can take pride in helping get one of the most important meals of the year on the table. It doesn't have to meet Emily Post's standards unless your family is super formal.
Be Thankful
Well it is called "Thanksgiving!" Encourage everyone to take time to reflect on what they are thankful for and share with the group. Thanks cost nothing. Try to make your attitude of gratitude last year-round.
Helping Others
Unfortunately, there are many who won't be celebrating Thanksgiving traditions in their homes. Thanksgiving is a great time to help others in need. They whole family can volunteer at a soup kitchen. You can collect items for a food drive. Donations of warm winter clothing are always appreciated.
After Dinner Walk
As tempting as it is to lay down for a little snooze after you push away from the table, gather the family and take a stroll around the neighborhood. Studies show that walking aids digestion.
Ornament Exchange
Start an ornament exchange. As Thanksgiving ends, it's time to gear up for Christmas. Of course, local retail outlets started in October!