Your log cabin deck is made for relaxing, socializing end enjoying the great outdoors.  By adding a deck, you extend your living space, while increasing the value of your log cabin.  But before you rush off to the local hardware store to buy supplies, consider a few important factors. First, check with local zoning authorities to obtain the appropriate permits. Next you will want to consider:
Deck Location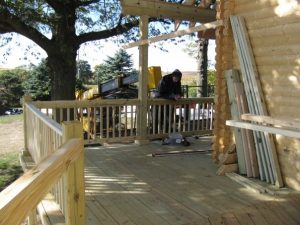 Seriously consider where to place your deck.  Do you want to take advantage of the view of a nearby mountain range or lake?  Is it important to see the sunrise or the sunset?  Will the blistering setting sun cook your guests at summer barbecues?  Can it be conveniently located off the kitchen to ease outdoor dining?  Since the deck will probably be in place for decades, make sure it's where you want it.
Deck Function
How do you plan to use your log cabin deck?  Grilling?  Dining?  Hanging out?  Does it need to be enclosed and gated to corral kids and pets?  Do you need seating built into the railing to capitalize
on space?  Does your deck need to have electrical access and be reinforced to support a hot tub?  These considerations can impact size and shape.
Deck Material
Gone are the days when natural wood was the only option for log cabin decks.  With more options come more decisions.  When selecting a material, go with what suits the style of your log home, your personal taste and your budget.
Natural Wood
Pressure treated lumber has always been the number one choice for deck material.  It's chemically treated to be resistant to insects and fungus. Unfortunately, it will take a beating from the elements and is very susceptible to splitting and warping.  Regular power washing and sealing is required to keep mold, mildew and dirt at bay.  Other natural wood choices include cedar and redwood.  Both are beautiful, naturally resistant to rot and sturdier than pressure treated lumber, but cost three times more.
Composite
Made of wood fibers and recycled plastic, composite deck material is more expensive than wood up
front but requires less maintenance.  In the long run, it will cost less.  Although there is a wide range of colors and stains, composite does not have the look and feel of hard wood.  It is weather and stain resistant
Plastic
This material is all plastic, sometimes using recycled components.  It will not crack or splinter and is resistant to decay.  Plastic tends to be slightly more expensive than composite.
Aluminum
If you're looking for a powerhouse and don't care if it looks like wood, aluminum may suit your log cabin deck.  Its tough, slip-resistant surface will not rust, rot, warp, splinter, crack or check.  Aluminum is lighter than wood but stronger.  You can find products with interlocking sections to prevent rain from leaking beneath.  As the most expensive option, the biggest drawback is the price.
Deck Decorating
Lastly, personalize your log cabin deck.  Of course you need table and chairs for outdoor dining.  Throw down an indoor/outdoor rug to create an outdoor living room or conversation area.  Create shade with a pergola with climbing plants.  For more ideas on creating outdoor spaces, check out our blog on Outdoor Living Space.