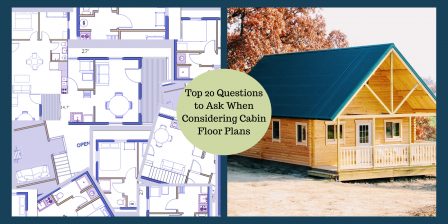 Don't be those cabin owners who step into their newly finished home wishing they had made a few changes on the cabin floor plans. Fall in love with your log cabin kit from start to finish by asking these 20 key questions:
What are the logs made of in your cabin floor plans?
How do you insulate?
We typically look up the building code of where the cabin is going to be, see what the IECC building department requirements are, and determine wall insulation according to standard building codes. When it is insulated, the side section of a wall would be the log on the exterior of your POLYISO foam board insulation, then two by three stud materials to attach the finished barn siding on the inside
Do you provide all the finishing and furniture?
We do not provide all the finishing and furniture in our cabin floor plans. We are a kit company. We provide your structure including your windows and your doors, floor system, logs, walls, and roof package. We also include an electrical package, but all cabinetry, appliances, and HVAC would have to be provided separately along with your foundation.
Is there any plumbing included?
There is no plumbing in our kits, no rough-ins, or finishing. All pipes, all connectors to your foundation, and actual septic would have to be provided by your local general contractor.
What is the difference between beam and ridge & rafter?
We offer multiple types of roof systems for all our cabin floor plans. We can do a beam roof system which is going to be your main ridge beam with side beam supports. This is typically done in our log cabins under 1,100 square feet. We can also do an upgrade to a ridge & rafter roof system which is a more conventional construction. You can select fiberglass insulation with that instead of the POLYISO which will typically save you some money in the long run. This will be your main ridge beam with roof rafters coming down the sides.
With a ridge & rafter roof system, your main ridge beam would still show, but your side beams would not. If you want to have the side beams visual, we can do a false beam instead.
Why is adding insulation so expensive?
A lot of our customers are a little sticker shocked by the wall insulation prices. However, the difference between us and the standard construction company is our wall insulation prices also include the two by three stud material, the finished barn siding, and all the fasteners.
What is the loft opening and landing like in your cabin floor plans?
Our Mountain King on site was built in 2008. Because building codes have changed since then, we have had to modify the opening and the landing of the loft. It is now a single doorway opening versus the original larger opening. The loft also now ties into the side wall versus being held in place by a rod.
How high are the interior ceilings?
Interior height varies between cabin floor plans. The 1st floor is typically around 7ft. 9in. high. Exact log height can only be known for sure when you actually build the kit because the nominal size of the logs varies.
Can a side porch be added?
All of Conestoga's kits are customizable. We can add on rooms, porches, decks, and anything else you would like included structurally. As long as it meets the building code, we can modify.
Can we change the front windows?
Just like we can modify the layout of our cabin floor plans, we can modify your windows and doors as well. We would just verify with an engineer to make sure the loads can still carry from the roof to the foundation.
What foundations are needed for the log cabin kits?
For the Mountain King and smaller, we can design the kit to be built upon a slab, a crawl space, or a pier foundation. If you would want to put it on a basement, it would have to be an exterior access basement only. For the larger homes, they can go on a foundation of a full basement, a slab, a pier, or a crawlspace.
What's the ordering and delivery timeframe like?
Currently we are looking at six months to a year for your Conestoga Kit to be ordered and delivered. That timeframe includes design, material purchasing, and production.
Do you have any other cabin floor plans available to view and tour?
On site, we only have a Mountain King. However, we do have cabins in all 50 states and overseas. Therefore, if there is a model you are interested in viewing personally, we can reach out to previous customers and commercial clients to see if they are available for people to tour.
How do you deliver?
Our kits are delivered on a 48-foot flatbed tractor trailer truck. We use the maximum weight allowed of 45,000 lbs. and each kit is bundled, labeled, and stacked on the tractor trailer trucks to be delivered on site and your general contractor to unload the tractor trailer.
How hard is it to build the kits? Can anyone do it?
We design our kits like the Lincoln Log concept, so anybody is able to build them, as long as your building code requirements do not require a licensed builder. We also have 24/7 email and phone support for our customers. So if you call into Conestoga, our tech support team will be more than happy to answer any questions you or your contractor have.
How long does it take to build out the cabin floor plans?
The timeframe to build the kits varies depending on the cabin you choose. Typically, it can take anywhere from two weeks to two to three months.
Are there color options for your cabin floor plans?
When delivered to your site, the lumber would need to be finished. We typically send a honey stain with your kit. You do have a choice of about 10 different stains to choose from, and you can also choose your metal roof color. There are some color options for shingles as well.
How often do we have to do upkeep?
To retain the warranty of the logs, they need to be maintained. Maintenance for these logs if using Conestoga's stain is every three to five years cleaning and re-staining.
Do you have someone who can complete the build of the cabin kits?
Conestoga can supply an assembly crew. They do not complete general contractor work like foundation, plumbing, electrical terminations, HVAC, etc.
Can we make the cabin floor plans bigger?
All of our kits are customizable. If you do wish to expand a footprint, we would take it through our design team and make sure that it meets building codes.
About the Author
Julia holds a BA degree in Communication Studies and is passionate about using words well to tell the stories that matter most in our world. When she's not working on new ideas for Conestoga Log Cabins, you can find her decorating, baking, or looking at vintage typewriters while antique shopping – all done with a cup of coffee not too far away.