Like any home, log cabins require maintenance from time to time. Regular maintenance of your log cabin reduces potential damage from UV exposure, water, insects and air infiltration. So, we put together a list of some log cabin maintenance tips for cabin owners. Keep in mind that this list is not intended to be all-inclusive, but just highlight a few areas that you should pay special attention to. So, don't procrastinate. Deferred maintenance for routine items can turn minor repair work into a more serious condition!
Log Cabin Maintenance Tips
1. Washing and Staining
Conestoga's log cabins should be refinished in two years, and then at least every four years. Conestoga Log Cabins suggests Zip Guard for interior and Wood Guard for exterior. Cabins should be caulked where needed and any fungus, moss, or other organic material can be removed at this time. Conestoga Log Cabins suggests using X-14 or a mixture of 2/3 water and 1/3 bleach to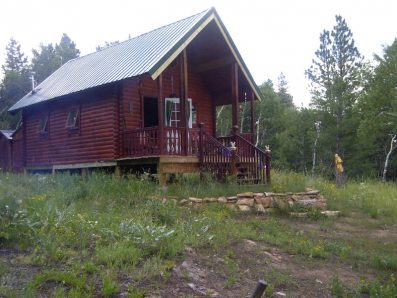 remove organic staining. When finishing or refinishing your log cabin, you should pressure wash the exterior to open the pores on the wood, allowing the preservative to penetrate easier. Also, do not inject too much stain into the ends of the log tongue and groove. The stain will leach into the grain and be visible on the interior of the cabin.  Apply stain only to the point of refusal and do not allow it to pool.  If you do not have a Conestoga log cabin, follow the instructions provided by your manufacturer.
2. The Roof
Next, make sure to pay close attention to your roof. Look for damaged or loose shingles and warped flashing. While you're up on the roof, clean out the gutters and downspouts. Additionally, inspect the chimney and look for damaged flue pipes, loose flashing, cracks between the flue pipe and chimney or chimney and roof. If you have a metal roof, clean it according to the manufacturer's directions to protect the clear coat. Keep in mind that working on the roof can be dangerous, so you may want to consider hiring professionals. If you are doing it yourself, make sure you are using proper fall protection equipment.
3. Windows and Doors
Check your window and door weather stripping to make sure it's in good shape. Bugs and rodents can squeeze through even the tightest openings. All metal moving parts (e.g., door hinges, latches and window operators) should be lubricated with a light oil or silicone at least once a year. Log cabins not built on permanent foundations should be checked annually for levelness due to the freeze and thaw factor of some climates.  This will help to ensure proper operation of doors and windows.
4. Landscaping and Vegetation
Make sure vegetation such as plants, tree branches, bushes, and potted plants are at least 24 inches away from your exterior log walls, decking, railings, and roof. Issues with erosion, standing water, and improper drainage should be corrected. In addition, remember to keep all soil away from floor boards and logs.
5. Easiest Tip
Lastly, don't forget to change your smoke detector batteries annually and test them according to the manufacturer's recommendations. The National Fire Protection Association strongly recommends replacing your smoke detectors every ten years.
By following these simple log cabin maintenance tips, you'll be on your way to keeping your cabin looking pristine and new for years!