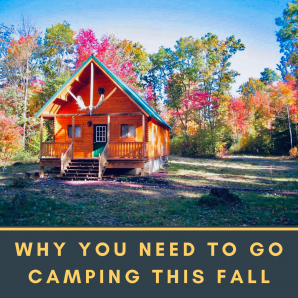 If you couldn't already tell by the Christmas themed TV commercials and the current November calendar date, the holidays are right around the corner. It's always a good idea to plan ahead and get your holiday shopping done early. Yet, since the holidays tend to require more of us in terms of hosting and getting everything ready, there's something you can do to refocus and relax before all the hustle and bustle begins – A fall camping trip in a log cabin kit. There isn't a better prescription for stress relief and mental recalibration than a trip away from it all to close out the year strong. You may think that camping is a summer-excusive activity. Well, allow these next five points to prove to you why fall camping will be one of your best decisions yet.
Colorful Scenery
Imagine hiking through a sea of fall foliage where every autumn-like hue is represented – as if water-colored by nature itself. Got the picture? You just can't get all of those beautiful reds, oranges, yellows and greens at once in any other way season then fall. This colorful transition from one season to the next makes you want to be a part of it in some way, and fall camping offers the perfect solution to bring about this experience. When fall camping in a log cabin kit where the surrounding trees are so vibrant in color, it will look as if the windows are artwork hung up on the log walls. It will surely cause you to deepen your appreciation for the season while taking part in all your fall camping adventures.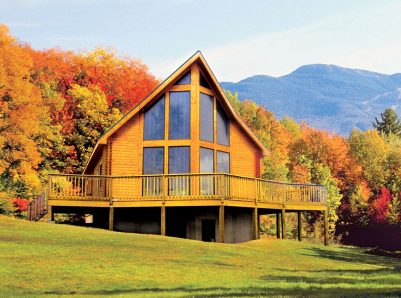 Cooler Temperatures
Now take that same hiking image we had previously imagined and mentally place it in the middle of summer. There's no fall foliage to admire and whatever nature has on display during that time would have to be seen through constant perspiration and dehydration management. With cooler temperatures, the energy you would have used to stay comfortable in the heat can be refocused into fully enjoying your fall camping trip in a log cabin kit. You could drink those warm beverages that only taste better in colder weather and start-up the fireplace in that log cabin kit you rented for the weekend.
Nature's Pest Control
One of the biggest differences you'll notice while fall camping is how fewer bugs there are compared to the summer. According to Farmer's Almanac, while "all insects have some ability to withstand cold weather…the colder the temperature becomes, the fewer survive." This gives you one less thing to worry about at your stay in a log cabin kit and allows for more space in your traveling bags now that you can leave the bug repellents at home. A log cabin kit that is maintained well and whose owners have paid close attention to all openings, like windows and doors, can leave visitors assured that bugs will stay at bay. Fall camping has a lot less swatting of unwelcomed guests compared to other times in the year, giving you the peace of mind that you have probably gone camping to experience.
Crowd-less Grounds
With school in full swing until the holiday break, campgrounds will be a lot less populated compared to other times throughout the year. You'll have more log cabin kit selections to choose from and an opportunity to really explore the grounds without bumping into too many people or waiting on someone else to free up the space. You'll more than likely have immediate seating at the closest bathhouse and can freely lounge in their multipurpose log cabin kit before heading to your own. Not to mention that the noise level will probably fit nicely into the relaxing environment you hoped to have.
Cost Effective
Campground rates can be a lot like airline rates – they reflect the travel seasons. The busier the season, the higher the price and the quieter the season, the lower the price. Since the early fall doesn't see too much travel traffic compared to later in the year, you can easily score a great rate for a few-night stay at a campground log cabin kit. Maybe you take that family Christmas vacation a few weeks early or for a true personal recharge – reserve a cabin, party of one, cell phone optional.
There's a lot to enjoy during the fall that to get so hyper focused on the holidays far in advance would cause anyone to miss out on all the season has to offer. Therefore, a fall camping trip in a log cabin kit allows you to appreciate the season before it's gone, and to mentally replenish so that you give of yourself well what you need to give when the holidays arrive. These five points are just a few of many reasons why fall camping is the true holiday game changer.
About the Author
Julia holds a BA degree in Communication Studies and is passionate about using words well to tell the stories that matter most in our world. When she's not working on new ideas for Conestoga Log Cabins, you can find her decorating, baking, or looking at vintage typewriters while antique shopping – all done with a cup of coffee not too far away.