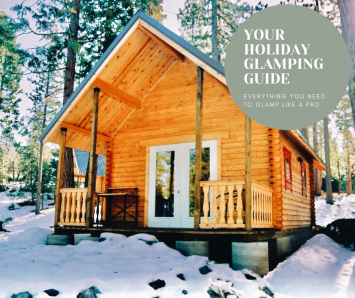 Every year, the question of, "Who's hosting the holidays?" returns into family conversations. It's a big question that carries with it a list of responsibilities for the designated host/hostess. Some people love it while others may find it to be an undertaking with far too many boxes to check off. So why not try something different? There are numerous campgrounds and resorts out there just waiting for families like yours to receive the hosting baton on your behalf. This year, take the stress out of hosting and choose glamping to experience the holidays like never before. Here are seven tips that will have you glamping like a pro in no time.
Location
Gather the family and choose your destination. Here are some of our favorites: Test out your ATVing skills and adventure through the mountain trails of West Virginia at Ashland Resort. Stay in one of their several Conestoga Log Cabins for an unforgettable trip. Head over to Woodstock, New Hampshire in the White Mountain Region for historical charm, cultural richness and stimulating recreation at Broken Branch campground where you and your family can comfortably stay in a Conestoga Log Cabin there as well. Or venture over to Carlyle Station and see how the snow beautifully frames our cabins there. Depending on what you and your family are looking for, there's a cabin just waiting for you to start holiday glamping in.
Holiday Markets
While the cabins at these locations are indeed a work of art that we understand you may not want to leave, it's good to explore what's bustling in the surrounding area. Holiday markets are a fun way to support local artisans, learn more about the town, listen to live music, and taste the area's most beloved foods – all in one place. Shopping may be the driving force behind such markets, but there's so much more to experience when these events take place. Holiday glamping is all about making an already memorable experience even more enjoyable, and sometimes that starts just beyond your cabin doorstep.
Bring a Little Bit of Home with You
Being home for the holidays can mean a lot of different things. Grandma's house. Your house. The best friend who is like a sibling's house. Holiday glamping is a way for all participants to bring a piece of home with them to a location that is new to everyone. Pack that favorite movie-watching blanket that's always on your couch. Take a few family photo albums with you and place them on the cabin coffee table as a way to collectively reminisce on memories and learn how family traditions came to be. Gather all the traditional holiday recipes that everyone looks forward to partaking in each year and bring them to life in the cabin kitchen. Before reserving your cabin, be sure to check the amenities and accommodations and fill in the gaps as necessary. These details are what make us appreciate the holidays and the people we spend it with even more. As Alexandra Bracken wrote, "Home isn't four walls, it's the people you're with."
Entertainment
When all the presents have been opened and you've rung in the new year, find creative ways to bypass the lulls in your time with family and friends. Convert old home videos to a flash drive and use the coffee table photo albums as playbills to watch the memorable recordings. Looking for more nostalgic activities? Check the area and stop by any drive-in movie theaters still in operation during your holiday glamping travels. Board and card games are always a great way to challenge the competitive characters in the family and bring the quiet ones out of their shells. If the weather permits, take a hike and picnic out in nature. Don't forget the thermos with the hot chocolate though.
Layers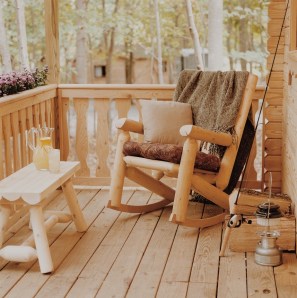 Speaking of staying warm, layers are going to be your best friend when holiday glamping at the cabin. You can easily peel the fleece jacket off when you're by the fire and add the winter coat when you take that hike. However, to layer or not to layer truly depends on location. So be sure to check local weather forecasts ahead of time and pack accordingly. But it never hurts to be prepared for whatever the weather might bring during your holiday glamping adventures.
Capturing the Moment
Perhaps you've invited the family to take a digital detox while together and you're wondering "how are we going to capture the memories made without our phones?" Believe it or not, it's possible. Amidst today's ever moving technologically driven society, disposable and polaroid cameras are actually making a comeback and can be a great addition to the holiday glamping getaway. The older adults can finally teach the younger generation something they may not know about these particular cameras. You can also always count on the aspiring photographer in the family to bring along a camera or two to practice their craft throughout the trip.
Here's your sign to give that campground a call. See if that resort has any lodges available. Or start customizing your own holiday glamping destination today with a CLC log cabin or log home kit. We'd love to be a part of your new holiday traditions.
About the Author
Julia holds a BA degree in Communication Studies and is passionate about using words well to tell the stories that matter most in our world. When she's not working on new ideas for Conestoga Log Cabins, you can find her decorating, baking, or looking at vintage typewriters while antique shopping – all done with a cup of coffee not too far away.