Have you ever wondered how to utilize a log cabin kit for retail space or to fulfill other business needs? Log cabin kits can offer so much more than just what is traditionally thought of them. Multi-purpose log structures can vary between a cabin storefront, office, café, or anything you desire for your log cabin kit. Constructing a cabin storefront can give your campground many additional benefits. With this added feature, it can boost the camper experience and give guests the chance to meet other campers.
Since our cabin kits can be completely customizable, it allows you to design the cabin storefront however it best fits your needs. Adding this building to your campground can also provide you with the ease of technical support available from the Conestoga team. Purchasing a log cabin kit from Conestoga Log Cabins gives you the peace of mind that someone is readily available to assist you in the process. Now, how could these cabin storefronts be beneficial for your campground business? Here are three reasons why you should consider adding one (or multiple) to your campground.
Creates an Opportunity for Additional Revenue
Who wouldn't want to pursue the chance of an increase in revenue? A cabin storefront unveils this opportunity, and the process could not be easier. You can contact us to discuss the plans you intend for your campground's future storefront, and we will work to accurately design it. After the kit is shipped to you, there is support available to kickstart the journey to more revenue, while also boosting the campground amenities.
Merchandise, camping necessities visitors may have forgotten, and snacks for after a long hike can all be sold at your cabin storefront. It opens a door of opportunities for your campground and can host additional space for an office, bathrooms, or lounging area for guests to recharge before and after their next adventure.
Gives a Cohesive Look
When campers are looking for that special retreat, they want to ensure their log cabin has a warm and cozy ambience to it. So, why not carry this throughout the campground? The cabin storefront will coordinate with your other cabins onsite and give the resort a cohesive look. When you purchase log cabins and a storefront from a single supplier, you can guarantee the rustic charm will be noticeable and consistent for every aspect of your order. The look of a campground is valued highly by campers, playing a vital role in their experience and how they speak of the memories they make there.
"Do you remember when this happened as we were grabbing a snack at the storefront?" or "How about the moment a rainstorm came through out of nowhere and we were thankful the storefront was nearby for us to run into until it passed?" The physical structure and features of your cabin storefront can become a crucial part of the stories first time campers won't stop talking about to their friends and family – which directly ties to your reputation. At the end of the day, a cabin storefront gives campers another building to admire and a place to peruse your selection of offerings. And guess what? It can function as more than just a storefront as well.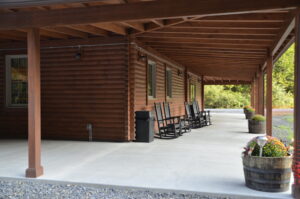 Serve As Welcome Center
Conestoga Log Cabins offers different models that can fit into your business plan, each customizable. A storefront can also be utilized as a welcome center so that questions on your campground's rules, maps, and amenities can be answered almost immediately upon your campers' arrival. First impressions are everything, so having a structure like this can be the physical representation of showing how much you care for your campers and desire their experience to be nothing but enjoyable.
A welcome center (check out Ashland Resort's HERE) also allows campers to connect with fellow guests and staff.  What's important about this is the potential for friendships to be built and a sense of community that transcends your campers' length of stay.  The memories made at your campground are what influences them to return year after year. It's vital that as a campground owner you invest in the structures that invite them to do just that.
This is your sign to contact CLC today and start designing the cabin storefront you and your guests will love!