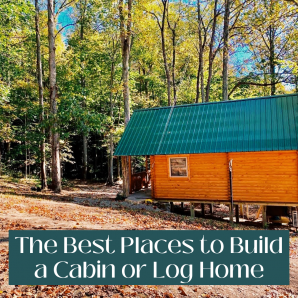 Whether you are wild about the outdoors or want to create the perfect retreat, deciding where log properties exist best can be challenging primarily due to all the competition. There are numerous breathtaking spots and locations across the country that are perfect for hosting the log home of your dreams.
Perhaps you already have an idea for the design of your log cabin, but just haven't decided the "where". Here are some top locations to inspire your choice and to help turn the log properties you've been mentally envisioning into a reality!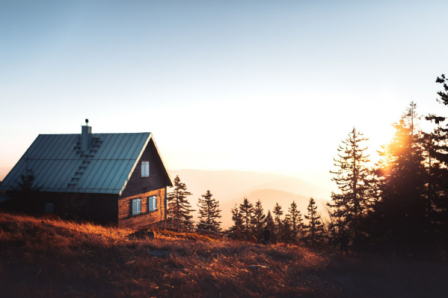 1. For lovers of all that is snow and water: McCall, Idaho
If you love skiing, snowmobiling, or snowshoeing along with scenic mountain views in the winter and water sports in the summer, McCall is for you. A relaxed pace, small-town charm, and natural wonders make this town the ideal location for log properties. The town has a thriving year-round tourism industry and between Mother Nature's works of art and the numerous activities, it doesn't get much better. Simply McCall!
Population: 3.485 (2020)
What's to Love: scenic mountains, snow sports, water sports
Photo by Lili Kovac on Unsplash
2. Recreate, relax, rejuvenate, reconnect: Big Sky, Montana
Whether you like to hunt, fish, indulge in snow sports, or just want to enjoy some of the most scenic views in the country, Big Sky is all that its name promises, especially from the windows of log properties. If you like outdoor adventure, Yellowstone National Park is but an hour's drive. Described by the locals as an "R" destination meaning recreate, relax, rejuvenate, and reconnect, there are lots of geologic wonders to enjoy when residents step outside their log properties. As a gateway to Yellowstone, adventure is always on the horizon. Book your stay in a Conestoga cabin at the North American RV Park & Campground to get a taste for what having your cabin in Montana would be like.
Population: 3.054 (2020)
What's to Love: skiing, trekking, hunting, fishing, horseback riding
3. The Colorado Rocky Mountain High: Grand Lake, Colorado
One of the gateway towns to Rocky Mountain National Park, you'll enjoy the magnificent Rocky Mountain views, boating, fishing, and adventuring out on trails. Outside of your log properties, you may even indulge in some moose-sighting. The quaint little town Grand Lake in Colorado sits on the shores of Colorado's largest natural lake and is described as the soul of the Rockies. Wake up in Colorado before you officially move into log properties of your own with a stay in one of Conestoga's camping cabins at Glenwood Canyon Resort.
Population: 262 (2020)
What's to Love: Snow-capped peaks, a beautiful natural lake, outdoor adventure, and all things moose.
Photo by Peter Thomas on Unsplash
4. The Last of the Old West: Jackson Hole, Wyoming
Established by the pioneers long ago, Jackson Hole sits near both Yellowstone and Grand Teton National Parks. Enjoy a horse-drawn stagecoach ride, a wildlife tour, or explore on rafts, horseback, skis, or take the mountain bikes off the walls of your log properties and go for a ride. For those that want the privacy of a log cabin but still enjoy what the metropolis has to offer, Jackson Hole has a symphony, museums, community theater, and art festivals.
Population: 10,585 (2020)
What's to Love: National parks, scenic views, a taste of the old west, cultural activities
5. Black Hills and Badlands: Interior, South Dakota
Dating back to the 1880s, Interior got its start on the Big White River. When the railroad arrived, it moved a mile north. It sits 7 minutes from Badlands National Park, and nearby are South Dakota's agate beds for the rock hunters among us. With Mount Rushmore overlooking, the scenery is breathtaking. Pine Ridge Indian reservation, rodeo adventures, and much more together with the great outdoors will make you happy to call Interior home to log properties of your own. Want to experience the area before setting up roots there? Book a stay at one of Conestoga's camping cabins at White River KOA Holiday in the Badlands.
Population: 47 (2020)
What's to Love: Badlands National park, rodeo, Lakota Sioux Culture, Buffalo roundup, arts festival
Photo by alyssa teboda on Unsplash
6. Michigan Wine Country: Old Mission, Michigan
Founded in 1839, this picturesque town is almost to the tip of the Old Mission Peninsula. Reminiscent of Old England towns surrounded by beautiful fresh water, this village finds itself in the heart of Northern Michigan Wine Country. Whether you like to ski, boat, hike, fish, or feast on fresh cherries and apples, Old Mission is the place to build log properties. But before you break ground and start building, see what Michigan is like for yourself at a Conestoga cabin not far away from Old Mission in Traverse City.
Population: 6,068 (2020)
What's to Love: History, pristine waters, Cherry festival, Michigan wine
7. Nestled in the Trees: Mountain Home, Arkansas
Arkansas offers natural beauty with a quality lifestyle at a lower cost of living. Outdoor activities include fishing, boating, bicycling, golf, hiking, and endurance running. And there's always something on in Mountain Home from Sowbug roundups to gardening seminars, to the Trout Festival, and don't forget the farmer's market for the best in local produce.
Population: 12,463 (2020)
What's to Love: beautiful trails, tons of activities, lower cost of living
8. The Poet of the People: Burns, Oregon
Located in Harney County, Oregon, Burns sits at the entrance to the Steens Mountains. Founded in 1891, it was named after Scottish poet Robert Burns, by then store owner George McGowan, who declined the proposal to name it after himself. Burns is the county seat, which is saying quite a bit when you consider that Harney County is the 9th largest county in the U.S. A mecca for birdwatchers, it is the home of more than 250 migratory species. If it's back to nature you desire, Burns has it all. You're invited to stay at a Conestoga cabin at a Central Oregon KOA to vacation in this one of a kind state and experience all that it has to offer.
Population: 2,908 (2021)
What's to Love: Birdwatching, mountains, gorges, meadows, and lakes together with hiking, hunting, and fishing.
Photo by Taylor Grote on Unsplash