How was it? Getting to hear children laugh as they run off their energy and expand their imagination outdoors. Or seeing people eat meals together and participate in daily activities all over your campground and throughout the season. It must have been exciting to see your campground come to life like that. To watch the fruits of your labor expressed in the joy of others and in their new-found memories. You can only imagine how many stories are being told in school hallways and workplaces right now with your campground as their setting. Even though the foot traffic at your property might look a little bit different now that the seasons are changing, it doesn't mean that your efforts should pause in response. A few adjustments might be necessary, but the goal remains the same: Keeping your campground at the front of everyone's mind, regardless of the season. Here are three areas to focus on in the coming months so that your campground can be set apart from the rest now and when opening season debuts again.

Maintenance – Keep Up the Good Work
27 seconds is all it takes for people to form a first impression. And for others, it may be as little as 7 seconds. Whether that be of other people or places, the fact is that it doesn't take long for individuals to consciously or subconsciously establish their own opinions based solely on appearances and initial interactions. If your facilities are not well cared for and your grounds not well-groomed throughout the seasons, it may not paint the best picture of your campground for your guests to want to come back to. And at the end of the day, the best kind of marketing is word of mouth. So, invest in quality landscapers and hire the detail-oriented cleaning company. You want your campground to pass those first impression tests with flying colors because it shows that there is intention behind even what first meets the eye – and that sets you up for valuable success.
Upgrades – Another Reason They'll Want to Return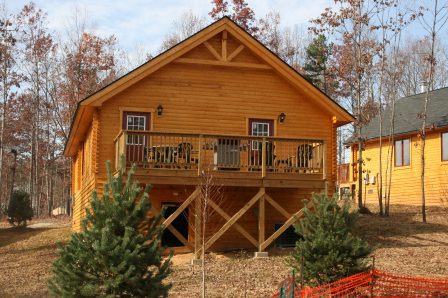 We are living in a world where HGTV is playing on in the background of living rooms everywhere. As a result, people are constantly daydreaming about their next home project. The words renovate, repurpose, and restore have never been more apart of regular dialogue then now. These words are even the entertainment in unrelated places. Have you been to your doctor's waiting room lately? With so much attraction surrounding home improvement to increase value, it only makes sense to explore this for your campground as well. And there is no better time than now to do so. If you're campground could use a few cabin upgrades to surprise your campers come opening season, connect with us now to finalize those orders just in time for next spring. If you have room to expand on your property, don't limit your options to just cabins for sleeping quarters. Consider adding bathhouses and multi-purpose cabin kits. These will give your guests more room for comfort and more options during their stay. Remember, to many if not all of your guests, your campground is a home away from home. Make sure it stays that way.
Marketing – Tell Everyone About It
If you begin marketing your campground not only routinely but strategically, you can force individuals to think about their future vacations sooner which can potentially result in early reservations at your campground. Conduct a marketing campaign that thoroughly promotes any changes and updates at the grounds. You can regularly do this through a seasonal newsletter or, if the news is much more noteworthy, create something dedicated solely to detailing that event. Visuals are so important when it comes to generating responses. They do so much more for the viewer than just words alone. Hence, include quality pictures of your campground with great attention to the additions. It will pique your gular guests' interest to want to see the changes for themselves, and for those who have yet to visit your campground, it will give them more reason to come opening season. When you decide to purchase cabin kits with Conestoga Log Cabins for your campground, you will receive a customized marketing kit, sure to increase your ROI in no time.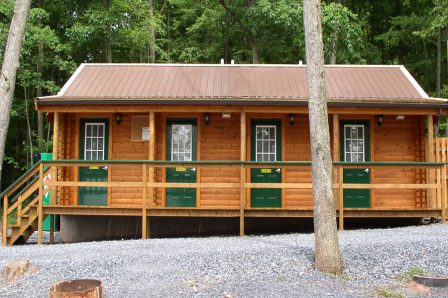 Your campground is unique. You know it and your regulars know it too. So don't let the end of the summer season put an end to everything you've worked for. Let this coming season be the beginning of implementing new ways to reach more people. If you haven't already, you can start with log cabin kits because they just have an organic way of drawing people in that is undeniable. Kevin Costner in Field of Dreams said it best, "If you build it, they will come."
About the Author
Julia holds a BA degree in Communication Studies and is passionate about using words well to tell the stories that matter most in our world. When she's not working on new ideas for Conestoga Log Cabins, you can find her decorating, baking, or looking at vintage typewriters while antique shopping – all done with a cup of coffee not too far away.