Her grandma's cabin stood between two mountains in the Berkshire Valley at Longwood Lake. It was picturesque, quaint, and serene. She excitedly found herself there every summer, enjoying all that the cabin had to offer and making the memories that she holds so dearly now. This cabin stood as a treasured a place.
That is until a snowstorm kept it from standing altogether.
The cabin simply could not weather the strength of the winter storm that rolled through Jefferson Township, NJ one year and it unfortunately fell. Even though her parents decided not to rebuild, she vowed to bring a new version of grandma's cabin to the land when the right time came.
And 2019 was that time.
Out of all the log cabin kits she considered; Kathy fell in love with CLC's Mountain King the moment she toured it at the Lebanon facility. It had everything she was looking for. The team worked diligently with her to translate the vision she had into a cabin that she would never want to leave. When the delivery truck arrived lakeside with her cabin kit, her contractor was ready to bring it to life on the property where grandma's cabin once stood. We sat down with Kathy to hear more about what the cabin building journey was like for her. Here's what she had to say:
Q. Why did you choose CLC?
"They were closest geographically to the build location then other companies and their overall price for log cabin kits was great. I was looking specifically for a cabin with a livable loft area that had actual stairs leading up to it. While other companies' log cabin kits had lofts, they generally could only be accessed by a ladder and used primarily for storage."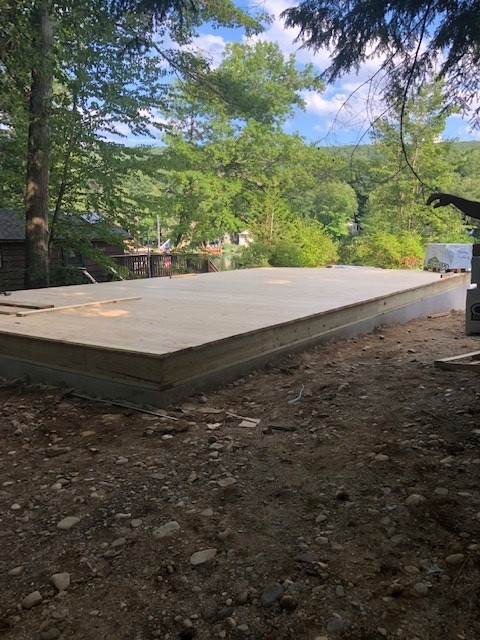 Q. Walk me through your experience on coming up with the design?
"I really wanted to make sure that the loft and porch were important to the core design of the cabin. Since this is my summer home, I wanted to have a porch where I could enjoy the outdoors. Now, my family and I practically live on the porch we love it so much. The loft was equally important because when I plan to retire and live here full-time, I want to have that extra living space with the second-floor view through the beautiful triangle windows. It was also important that the cabin was wheelchair accessible for my mom. My contractor was instrumental in helping me through the design-adds and adjustments that come along throughout the building process. He created a storage space beneath the main stairs where the fireplace is located in the original plan."
Q. Is location as important as everyone makes it out to be for log cabin kits?
"This location was important to me firstly because of the sentimental value it holds. I frequented grandma's cabin throughout my life. So, when the land was passed down to me, I knew that I wanted to recreate that with another cabin. I was already paying taxes and dues on the land. I was just waiting for the right time and the right cabin to make it all a reality. Having the land made this all possible. The cabin itself is off the grid. Hence the cabin runs on a generator and lights run on battery. We have well water access, a chemical toilet, and a gas stove and refrigerator on the way."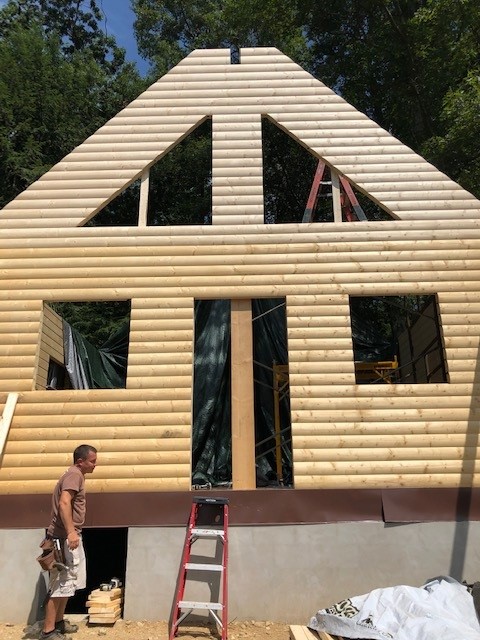 Q. Most memorable moment of the build?
"Towards the beginning of the pandemic, the interior of the cabin needed staining. My daughter and her fiancé, like the rest of the world, found themselves with more time on their hands. So, the three of us took on the staining project ourselves. It was an awesome experience to see how well my daughter and her fiancé got along and for me to connect more with the man who was about to marry my daughter. It was very sweet and a memory that I'm incredibly grateful for."
Q. Was there anything that surprised you throughout the process?
"One thing that surprised me was when the contractor had to get a crane to raise the main beam up and position it to where it needed to be in the cabin."
Q. You're at the end of you're first year as a cabin owner. What stood out?
"I still get that "Oh Wow" feeling when I come around the hill and I see my cabin as I drive up to it. It never goes away."
Q. What drew you to the Mountain King among other log cabin kits?
"The loft with stairs leading up to it and the large triangular windows right above the main entry."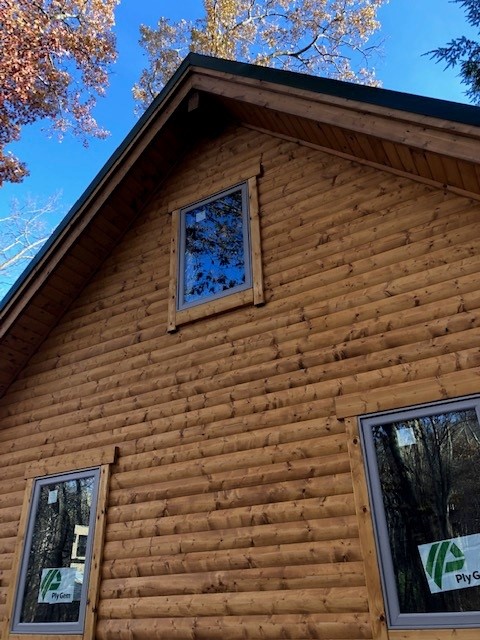 Q. What order did you go about completing the project: Did you have land first and then looked for a cabin or did you choose the cabin before you secured the land? Would you have done it differently looking back? Would you recommend others do what you did?
"I would say that building log cabin kits work best when you have the land already and are familiar with it. From a permit and zoning perspective, you can then put into consideration what the land offers and what you will need to address moving forward in the process."
Q. Hindsight is 2020 – Is there anything else you would have put in the cabin now that you have had the time to live in it, since the vision for log cabin kits are on paper to start?
"If the log cabin kits you're looking at have a basement, consider the trap door that goes down into it. This is something that I would have liked to have spent more time designing earlier on so that it is a better access point. I am planning to install stairs here in the future."
Q. If you could tell other soon-to-be cabin owners anything, what would it be?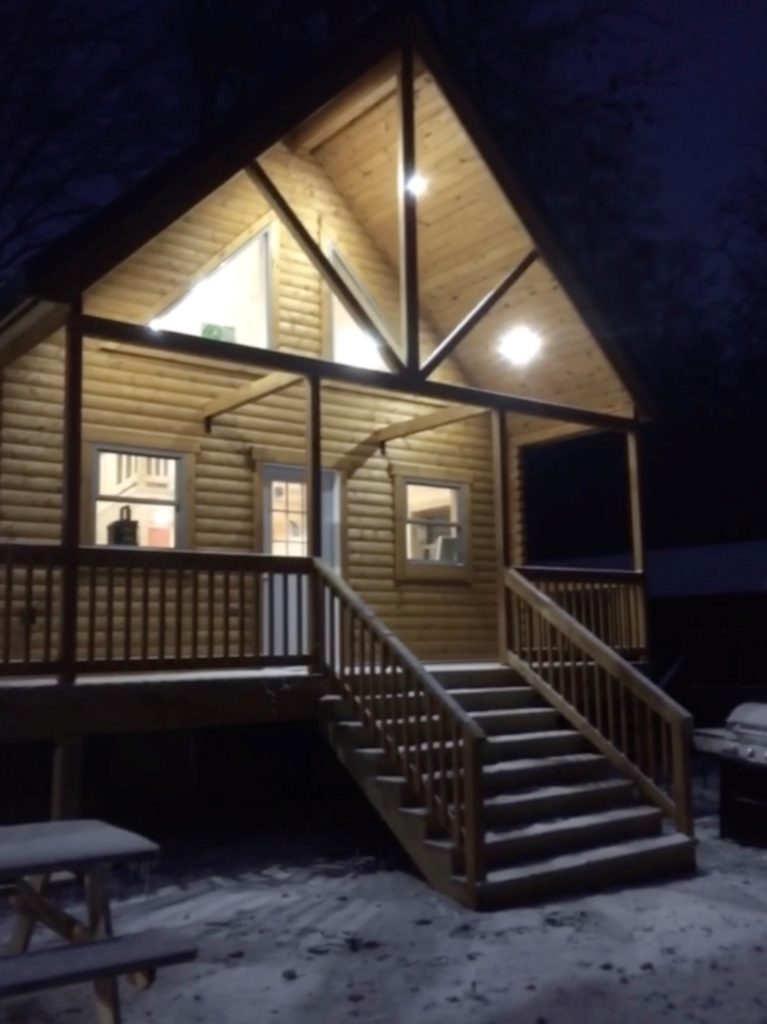 "Budget with contingency so that you are prepared to spend more if and when it is needed throughout the process."
"Log cabin kits don't go up overnight. They take time and patience. It was close to a year from start to finish for me. But in all honesty, is a home ever truly finished? There's always a new project or idea that keeps you constantly wanting to make it better."
"I planted and seeded grass around the cabin last summer and it is now all grown in."

"FYI – grass seed is blue when you lay it down."

"Have an open mind and be ready to learn new things throughout the process when it comes to log cabin kits. Every little thing amazed me, and I loved the journey because of that."
About the Author
Julia holds a BA degree in Communication Studies and is passionate about using words well to tell the stories that matter most in our world. When she's not working on new ideas for Conestoga Log Cabins, you can find her decorating, baking, or looking at vintage typewriters while antique shopping – all done with a cup of coffee not too far away.